Buying online in 4 easy steps
Quick and easy, purchasing your next vehicle can be completed in four simple steps.

Step 1 - Browse Stock
Click through our listings today to find the ideal vehicle to suit you. We have something to meet a variety of tastes and budgets.

Step 2 - Part-exchange
Enter the details of any model you currently own and wish to part exchange. We'll provide an instant and competitive valuation.

Step 3 - Purchase
Reserve the vehicle of your choice with a fully refundable deposit, buy outright, or apply for finance online today.

Step 4 - Receive
Arrange for collection or delivery of your vehicle at a time that is convenient for you and complete the purchase of your new car.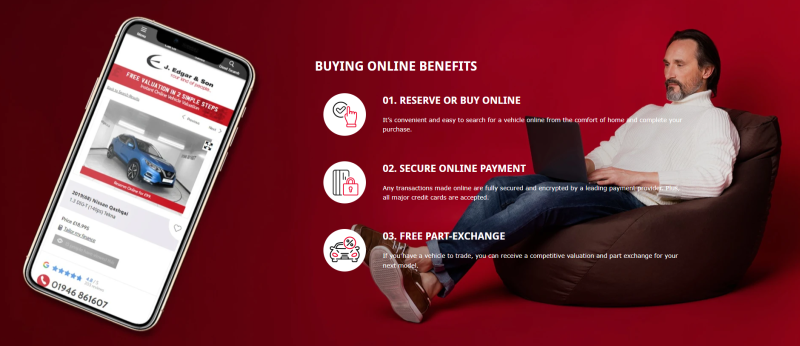 Why buy online with J Edgar & Son
Reserve Risk Free For Just £99
Buy Online With Confidence
Reserved For Up To Five Days With Refundable Deposit If You Change Your Mind
14 Day Return Policy On All Suzuki New Cars
Suzuki 14-Day Return Policy
All new Suzuki cars are covered by the Suzuki 14 day return policy.
Suzuki want to ensure that you are totally happy with your new Suzuki car once you've driven out of our showroom or we've delivered the vehicle to your door.
Suzuki offers you complete peace of mind, so you can change your mind for any reason and return the vehicle to us and receive a full refund.
Terms and conditions, full details are available here
FAQ AREA
See below for some of our most commonly asked questions. If your query isn't covered, please contact us.
Buying Online
You can liaise with a member of the J Edgar & Son team directly to discuss purchasing any of our vehicles. Pick up the phone, use our live chat system, or submit an enquiry form today.
In order to amend or cancel, you should speak to a member of our team as soon as possible, as well as refer to our Terms and Conditions.
If you would like to amend your order you can speak to anyone of our sales team and they will happily process any amendments to your order.
Completely secure. We work with one of the world's leading payment providers which ensures all data and payment information are fully encrypted and safe.
If you wish to make any changes to delivery/collection, please liaise with a member of the team at J Edgar & Son at the earliest opportunity.
Finance
A member of the sales team at J Edgar & Son will be able to provide you with details on your finance settlement upon request.
We'll be happy to answer any questions you may have regarding the purchase of any vehicle, so liaise with a member of the team today for details.
Part Exchange
Absolutely. Simply enter the details of your vehicle and we'll provide a competitive valuation almost instantly. Note that any outstanding finance that may be owed on your current model will need to be settled as part of the transaction.
In such an event, we'll be happy to refund you the difference after you have taken delivery of your new car.
Valuations are provided on good faith that the condition of your vehicle is accurately described. Should a full inspection conclude that this is the case, your valuation will be honoured.
Yes, but doing so will impact any financing agreement that is in place to support the purchase. Speak to us at the earliest opportunity to make any amends.
Of course. Assuming that you are the registered owner, or have permission of the owner, you can part exchange more than one vehicle.